Luxury Anguilla Hotels & Resorts
Anguilla resorts and hotels start with so many unfair advantages...
1) Idyllic beaches that are consistently voted "best in world"
2) Naturally friendly Anguillians (you never feel that the staff is trying to please, it's real)
3) A Caribbean island that has set the bar on elegant, beachside dining.
In short, this little island is 5-Star all the way.
Each luxury Anguilla resort builds upon those world-class advantages
Each tries to outdo the next with lavish suites that you never want to leave and pampering spas that melt away the tensions of "the real world". Restaurants run the gamut from cool beachside bars to elegant French or Italian offerings in magnificent settings.
To show you what I mean, here is a full video tour inside one of Anguilla's five-star resorts, CuisinArt Golf Resort & Spa...
In Short...
Anguilla attracts people who want the very best. Its luxury accommodations are famous for delivering exactly that.
No surprise, then, that such a tiny island like Anguilla would feature so many extraordinary hotels and resorts.
Anguilla's Top High-End Hotels

CuisinArt Golf Resort & Spa The luxury Anguilla resort that exceeds industry standards, this Mediterranean-style resort offers it all. From exceptional, five-star service, to plush, beachfront suites, world-class golf and spa and some of the best restaurants in all of Anguilla, you are in excellent hands at CuisinArt.
CuisinArt Update 2019: Following 14 months of grand renovations, a fresh look at the NEW CuisinArt Golf Resort & Spa.
---
NEW Luxury Hotel: Tranquility Beach Anguilla Ian "Sugar George" Edwards' and Neil Freeman's luxury boutique hotel has arrived! Contemporary-chic, and set smack dab in the middle of Meads Bay, this hotel just may be the one to beat on this exclusive beach.
The Reef by CuisinArt Sister property to CuisinArt Golf Resort & Spa, this luxury hotel is set on the exclusive sandy shoreline, Merrywing Bay.
Quintessence Hotel The island's first and only Relais & Châteaux.
Malliouhana, an Auberge Resort Anguilla's "Grand Dame"
Four Seasons Anguilla Anguilla's largest luxury resort
CéBlue A luxurious boutique hotel that blends modern-contemporary with classic-Caribbean design and architecture, offering both beach access and endless views of Crocus Bay
Frangipani Beach Club The Pink Pearl of Meads Bay
Meads Bay Beach Villas Only 4 Units, Much Loved, Excellent Reviews
Solaire Anguilla Luxurious, inpsired by the sea and a green development
Belmond Cap Juluca Anguilla's crown jewel, repeatedly voted "best in the Caribbean"
Zemi Beach House, Shoal Bay East's first luxury resort and soon-to-be Anguilla's second largest hotel.
The Manoah Boutique Hotel, a Caribbean-chic boutique hotel on Shoal Bay East.
Sheriva Caribbean in style, this luxurious option blends villa privacy with hotel service and amenities
Quiet Confidence, Friendly Opulence
Anguilla resorts and hotels do not tower over the landscape, jarring your eyesight. They blend with confidence into their surroundings, "at one" with magnificent beaches. They quietly whisper, "relax, you're home." You will find that it's quite a home.
Four Seasons Anguilla on Barnes Bay & Meads Bay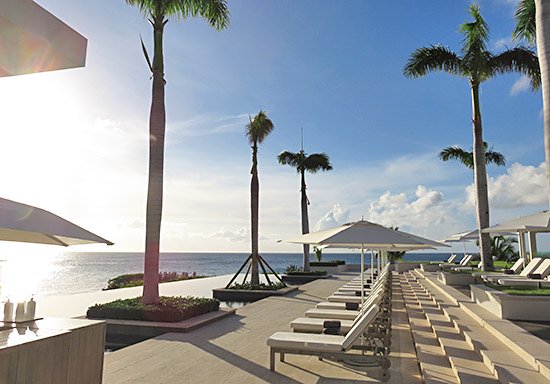 You never forget the sheer luxury of the hotels, the lush grounds, and the discipline and attentiveness of hotel personnel (and the genuine, big smiles).
Zemi Beach House on Shoal Bay East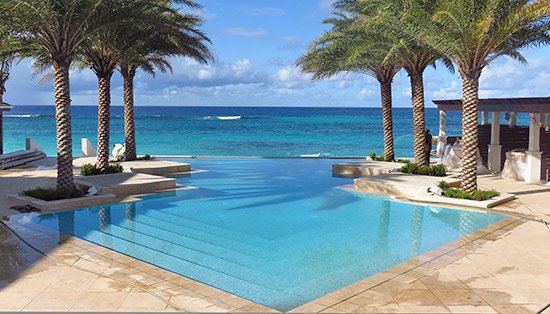 And of course the room rates reflect what you get. Each does, in its own way, more than justify the price tag.
In these quieter times in Anguilla, be sure to ask if there are any special rates available. You may be pleasantly surprised.
Belmond Cap Juluca on Maunday's Bay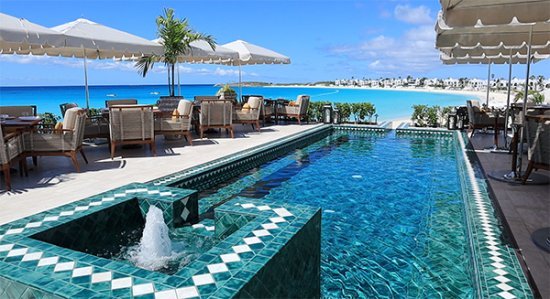 An Expanded List Of Anguilla's Most Elegant Hotels
CuisinArt, which has a subtle Greek/French feel amidst uniquely lush landscaping, features the only golf course (PGA level) on the island. This magnificent hotel/resort by the "blender" company became "our" hotel before we moved here. It is also a recent winner of Condé Nast's award for "Most Excellent Spa Hotel - Atlantic, Caribbean and Pacific Island."
Four Seasons Anguilla is the island's first large-scale luxury brand resort. Sophisticated. Elegant. Refined. And, with exceptional service. This is the Four Seasons experience, Anguilla-style. Four Seasons Anguilla is also the island's largest hotel. It touches both the largest and beautiful Meads and the more secluded and tranquil Barnes Bay, with over 180 rooms, 3 restaurants and 3 pools.
Quintessence Hotel introduces a brand new level of luxury to Anguilla. A boutique property with nine opulent suites, this grand topical mansion is a first of its kind and the island's only Relais & Châteaux.
Sheriva, set in Anguilla's West End overlooking Maunday's Bay boasts terrific views and quick beach access (just a 2 minute drive away via golf cart, which they provide). The property features three ultra-luxurious villas, all managed and serviced in high-end hotel style.
CeBlue Luxury Boutique Hotel, a recent addition to the island that embraces a unique and beautifully executed concept. This "boutique" property is made up of 8 luxury villas with a historic Caribbean-modern Asian design, and has endless views. With personalized service, access to beach and signing privileges at one of the island's top restaurants, CéBlue is a high-value luxury hotel.
Belmond Cap Juluca, the crown jewel of Anguilla luxury. Long regarded as the #1 resort on Anguilla... even in the entire Caribbean. The perfect group for the job, Belmond overhauled and re-opened the property in late 2018. One of the world's most stylish brands, there is no better fit than Belmond and Cap Juluca. Belmond has restored Cap Juluca to its rightful spot as one of the region's very best.
Frangipani Beach Club, the "Hollywood-Anguilla Hotel," this family-run boutique resort has a special, intimate style. With excellent amenities, too, and its immediate proximity to Meads Bay and Straw Hat Restaurant (breakfast, lunch and supper are all superb), it may fit your desires perfectly.
Zemi Beach House, Shoal Bay East's first and only luxury Anguilla resort. Blending contemporary-cool with Caribbean-warmth and with a concept that embraces Anguilla's ancient heritage, Zemi Beach House has a thoughtful concept and delivers a five-star luxury experience.
The Manoah Boutique Hotel brings 31 Caribbean-chic rooms to Shoal Bay East. With striking blue views and easy beach access (it offers beachfront rooms and rooms with a view - which are only 30 seconds to the beach), it is an excellent option on the sands of one of Anguilla's best beaches. Rates are more competitive than other luxury Anguilla hotels.
Meads Bay Beach Villas, the "invisible" hotel. Most beach-walkers don't even know it's there, due to its subtle access to the beach. Its four whim-pleasing, villa-style units are only part of what makes this mini-hotel so special. A loyal list of returning visitors call it home for its warm family feel.
Solaire Anguilla, the green hotel. Eco-friendly, this luxury hotel is set on the south coast of Anguilla, overlooking the Caribbean sea. Intimate and private (4 villas only right now), the hotel's private villa units exude calm luxury.
Our First Experience At Anguilla Hotel Luxury... Malliouhana
Anguilla's "grande dame" of luxury was the Malliouhana. Set on a bluff overlooking Meads Bay (the opposite end of that beach from Four Seasons), Sandy Island and Long Bay, it was truly pace-setting in its day (the 80s).
Sunset drinks from our favorite overlook, from our favorite Anguillian perch by the beach bar, pelicans roosting in the nearby trees, was a favorite way to watch the sun set.
The Malliouhana still stands, overlooking Meads Bay, an incredible sweep of white sand and gentle waves and clear turquoise.
View of Meads Bay from Malliouhana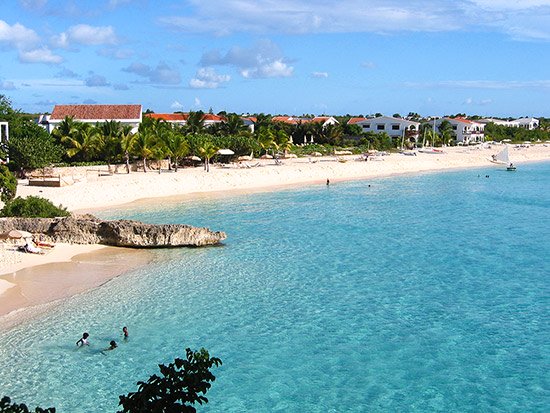 Doesn't it just make you want to dive right into the monitor?
Or go for a walk down that beach?
The renowned Michel Rostang french restaurant had an imaginative menu and unmatched wine cellar.
The beachside bistro had the best fries on the island.
But our absolute favorite feature was its sunset from the deck by the bar.
It was our must-do magical moment in Anguilla.
Peaceful, quiet, the family together, just enjoying the moment, quietly watching the sun's blaze fade in glory (my Dad told me to write that!)
We miss those days.
(Here's yet more on our sentimental favorite the Malliouhana, including a very special suite.)
The Malliouhana put Anguilla on the luxury travel map. It set a new bar for future five-star hotels and resorts.
While we never stayed here, Malliouhana's General Manager did invite our family for a special tour of Anguilla's classic charming resort. It was a step back in time. While a little long in the tooth, its Caribbean elegance, sensational views and large, high-ceilinged rooms won us over.
Share Your
Favorite Anguilla Hotel
Have you had a delightful experience at an Anguilla hotel or an Anguilla resort? Which is your favorite?
The oldest, and most classic Caribbean luxury resort, it closed in 2012 and sold to Auberge Resorts. For one year and a half the hotel closed while the crew worked hard to bring Malliouhana back to its former life.
November 1st 2014, they threw open their doors. The verdict? The Grand Dame is back!
More on Malliouhana, an Auberge Resort.
Inxpensive And Conference Hotels
While Anguilla is famous for its expensive resorts, villas and restaurants, the truth is that you can vacation here quite cheaply. Excellent meals at local restaurants, generally inland off the beach, will run about $10-$15 per person. And the hotels?
There are numerous cheap inns, guest houses and hotels, some even right on the beach. Carimar Beach Club, Shoal Bay Villas, Paradise Cove, Lloyd's Guest House and others all offer top value. Many of them make for excellent conference hotels, too, including La Vue and Paradise Cove. For more information and our top recommendation...
Cheap Anguilla hotels Don't miss our top recommendations.
The Anguilla Hotels: The Guide
Anguilla Hotels & Resorts Archives
1. Royale Caribbean: Anguilla Conference and Trade Show Tourism, an 80-room conference hotel set to open soon! More on Anguilla convention and trade show tourism and Anguilla Conferences.
2. Covecastles Anguilla Villa Resort, a favorite for many long-term visitors to Anguilla. Guests fall captive to the Shoal Bay West and St. Martin views, immediate beach access, and love the privacy afforded here. Built in the 80s, this villa resort also has a unique architectural elegance. That said, the resort does need to update its facilities and improve service quality. For many, though, those details don't matter.
3. Cap Juluca Archives
4. CuisinArt Update 2016: Our latest stay at CuisinArt Golf Resort & Spa.
5. Viceroy Anguilla was the island's first high-end "chain" hotel. It was loved for its modern-luxury flair and its wide selection of dining and activities. (Viceroy's Sunset Lounge was one of our favorite spots for a light dinner and drinks.) It opened in 2009 and became a top luxury hotel for the jetset. In summer 2016, Four Seasons Anguilla assumed management of the property.
Viceroy Anguilla on Barnes Bay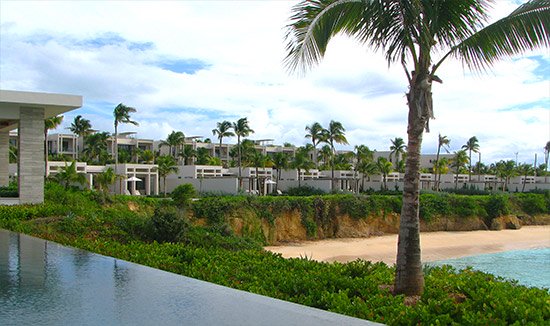 Wrapping up on Anguilla Resorts and Hotels
How can Anguilla, a tiny island of 15,000 people, play host to so many 5-star resorts and hotels? Even more curious is how they blend perfectly, almost invisibly, into the landscape, how celebrities from around the world come to these resorts and villas and go with little fanfare.
How does Anguilla pull this off? Magic.