Long Bay Villas...
Anguilla's Most Iconic Ultra-Luxury Villa
Long Bay Villas: At A Glance
Long Bay Villas is one of Anguilla's most iconic ultra-luxury villas.
The property takes your breath away in three distinct ways...
Sky Villa, Sea Villa and Sand Villa.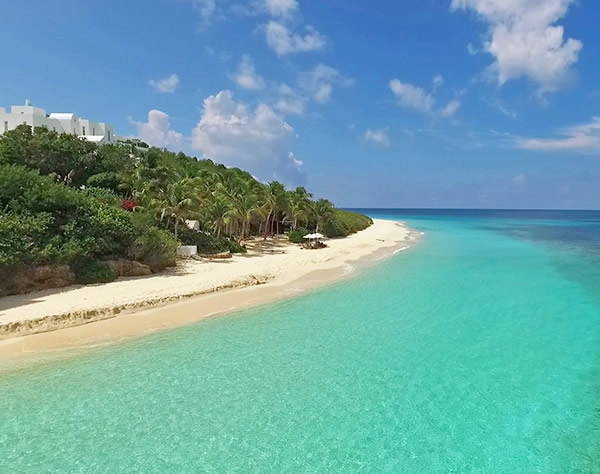 The estate's three stark-white villas tier down the lush hillside that slopes up from pristine and exclusive Long Bay beach.
Each villa's unique setting emphasizes a different perspective of "Long Bay Blue."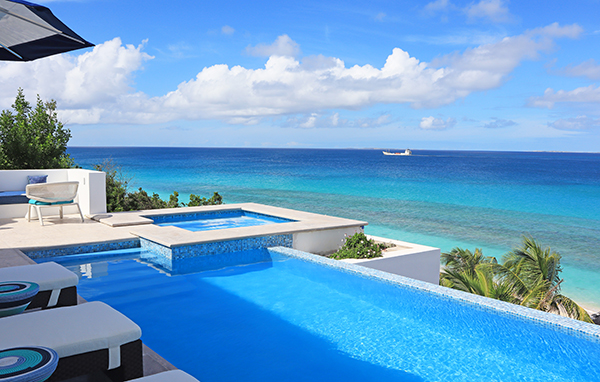 Inside, the grand villas combine to boast 16 bedrooms with over 19,000 square feet of indoor/outdoor living space that can accommodate 33 guests.
Recently refurbished with state of the art furnishings, let's step inside this striking ultra-luxury Anguilla villa.
More on Long Bay Villas, below...
Visit Long Bay Villas' Website...
If you have seen Long Bay beach from the ocean, you know Long Bay Villas. The three villa property is iconic. Strikingly white, Long Bay Villas' Sky, Sea and Sand villas emerge like a Grecian-Caribbean dream from the lush hillside that slopes up from Long Bay's blue waters.
True to the villas' names, Long Bay Villas captures the three "elements" of Long Bay's beauty: its skies, its seas and its sands.
Formerly Temenos Villas and later Elements Villas, today, they are the aptly named Long Bay Villas. The 3 villa, 16 bedroom property boasts over 19,000 square feet of newly renovated and re-designed indoor and outdoor living space.
For a video tour inside Long Bay Villas' Sky Villa, Sea Villa and Sand Villa, see the video above. For a video of the five-star Long Bay Villas experience, click here.
Sky Villa: Your Celestial Perch in The Sky
Set highest on Long Bay Villas' hillside is Sky Villa.
Sky Villa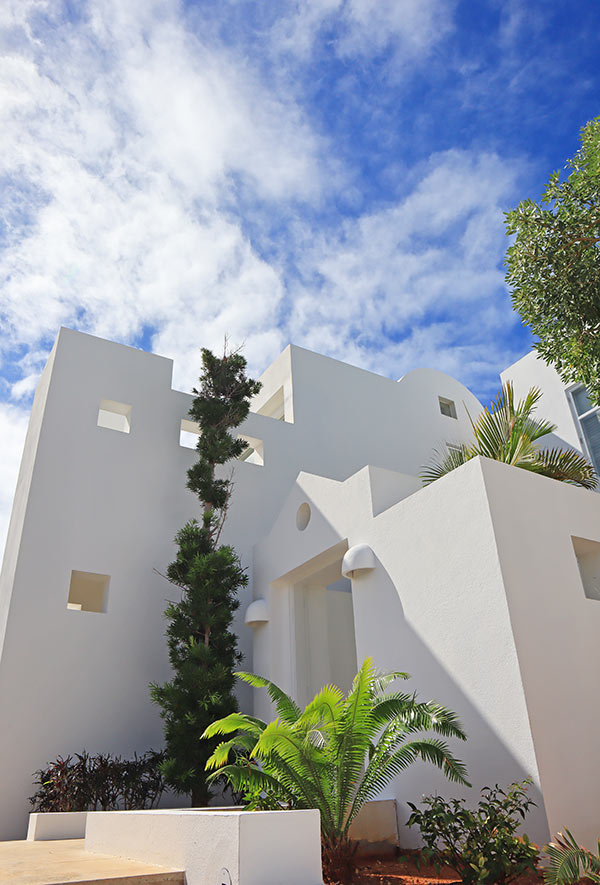 Sky Villa sits high among the blue skies that define Anguilla. Each of the villa's architectural pieces has been constructed to instruct your eye to one place, the sky-blue sky.
The almost ethereal experience begins out on Sky's oversized terrace...
Crystal Clear Blue Pool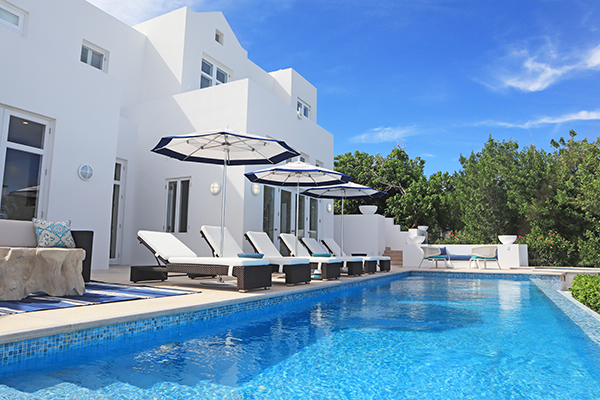 The Tower

Sky boasts over 6,500 square feet of interior and exterior living space.
The terrace is its focal point.
Most eye-catching of all?
Its "tower" perch.
Your eye drifts from blue pool, to white tower, to Anguilla's bold blue sky above.
The effect is soothingly therapeutic.
Lined with cushioned bench seating, the tower itself is a mini-escape within a luxurious getaway.
Down on the terrace, no detail has been overlooked.
The outdoor living area is complete with plush lounge chairs, umbrellas, dining pavilion, outdoor grill, outdoor shower and jacuzzi hot tub.
All Blue & White

Inside Sky Villa: Living, Dining & Kitchen
The terrace opens into Sky's grand central living, dining and kitchen area.
Grand Central Room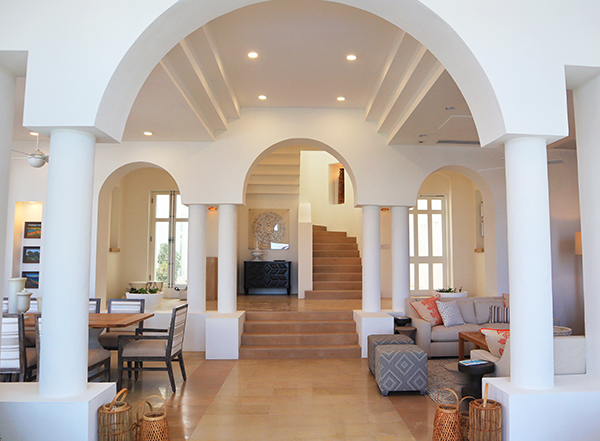 The architecture is markedly Greek-inspired with heavy white columns, geometric ceiling moldings and strong arches. Its color scheme blends exterior blues and whites with interior touches and textures that add elegant warmth.
The living area, for example, offsets clean white walls with an exposed brick wall. The design elements all work to blend old world with new, modern-clean with rustic-charm.
Living Area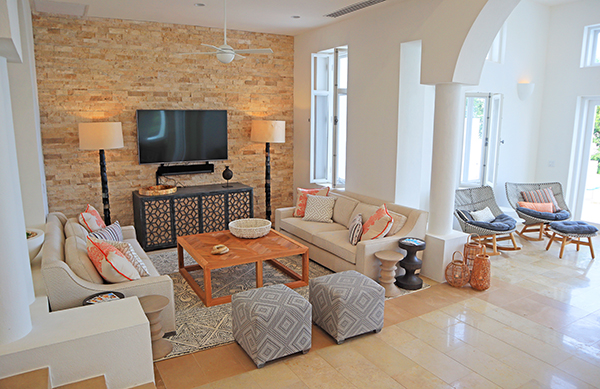 The living area is complete with large flatscreen TV with Sonos sound system. It faces the dining room with seating for ten people and the villa's modern kitchen.
Dining Area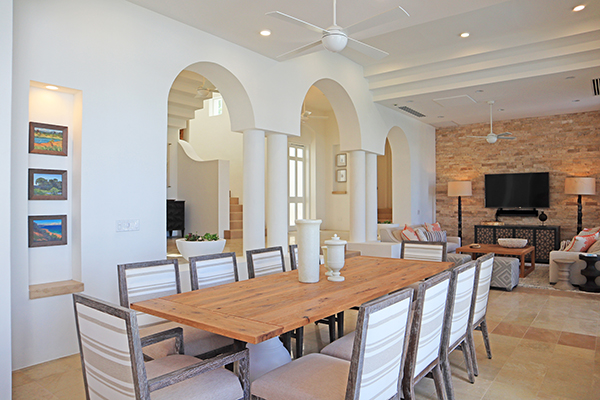 Any chef's dream, the kitchen features state of the art appliances, island with bar seating and slate-grey cupboards that elegantly disguise a full-size fridge. The dining area and kitchen all open onto the oversized outdoor terrace.
Dining Area (Foreground) & Kitchen (Background)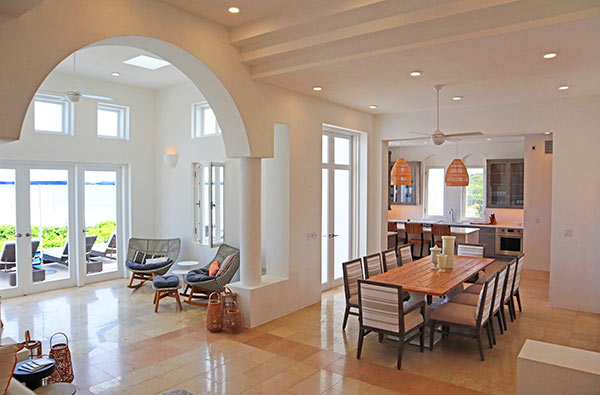 Inside Sky Villa: The Master Suites & Ensuites
Through open hallway, behind and adjacent to the central room, are two of Sky's four master suites. The garden view suite with master ensuite is set behind the kitchen. The master suite with ensuite and outdoor shower lies adjacent to the grand central room.
Master Suite #2

The second master suite also features a private patio with panoramic views.
Master Suite Terrace View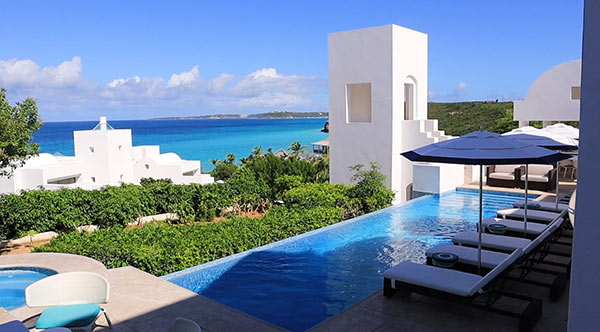 For two more master suites, follow the villa's central circular staircase.
Staircase To The Sky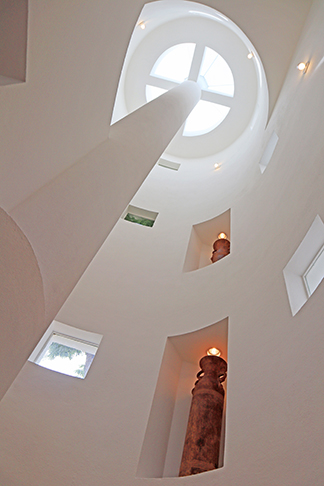 As the staircase twirls, your gaze drifts up, once again, to Anguilla's skies. A stroke of conceptual and architectural genius.
At the top of the stairs, a grand hallway immediately faces the villa's fifth bedroom, the twin bedroom.
Twin Bedroom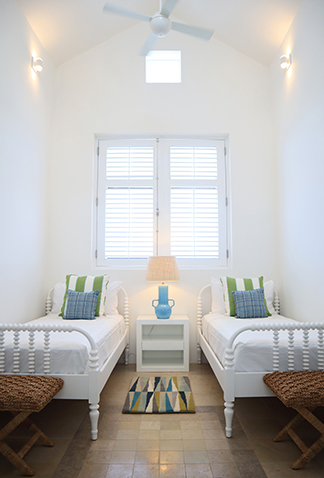 Behind French doors, the twin bedroom is ideal if you are traveling with younger children. It is set right in the middle of the bright, open hallway that separates the two master suites.
The top floor master suites are "in the sky." Their windows are level with blue sky, giving the rooms a surreal and heavenly effect. You are surrounded by Anguilla-blue sky.
Master Suite #3

Here, you feel as though you are among the clouds. Perhaps, living on a cloud?
Living on Cloud 9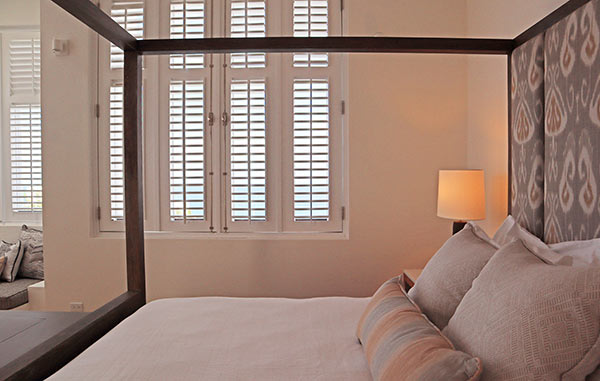 The third master suite features flatscreen TV that slides into a trunk at the foot of the bed. The room is complete with lounge area, terrace and plush ensuite.
Oversized and bright, the ensuite is far more than "just a bathroom." Sky's bathrooms are spa-esque.
Plush Ensuite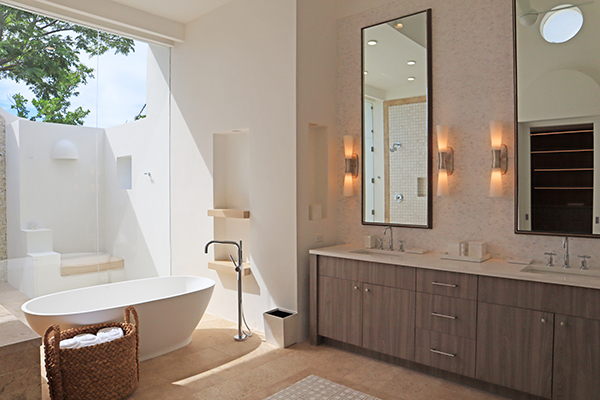 They feature...
Double sinks
Sink tub
Two indoor showers
Two outdoor sitting areas
Outdoor shower
Deep walk-in closet (with shelf lighting)
The ensuites are complete with Sonos sound systems and intricate tile work. Neutral in tone, the tiles' natural shimmer cast a soothing glow.
The final master suite is set on the eastern side of the second floor. It is the grand master suite.
Grand Master Suite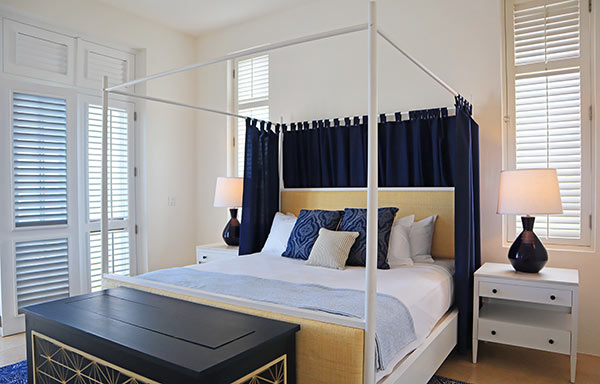 Complete with four poster bed, the room is dressed in sophisticated navy blue. The room features a flatscreen TV that tucks into a trunk and an alcove with sitting area.
Grand Master Alcove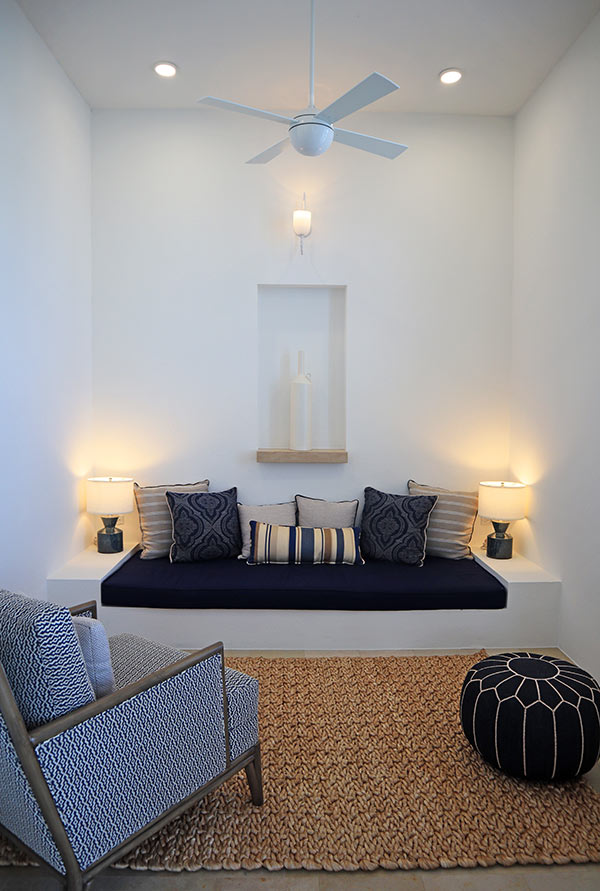 A cozy-chic cove with Moroccan flair, every design detail has been so immaculately thought through. The combination of modern-elegance and rustic-charm wins again.
As for the ensuite?
Simply, Celestial

Sky Villa is your celestial perch in the sky.
Sea Villa: The Infinite Ocean Blue
Set further down on Long Bay Villas' hill rests Sea Villa.
Sea Villa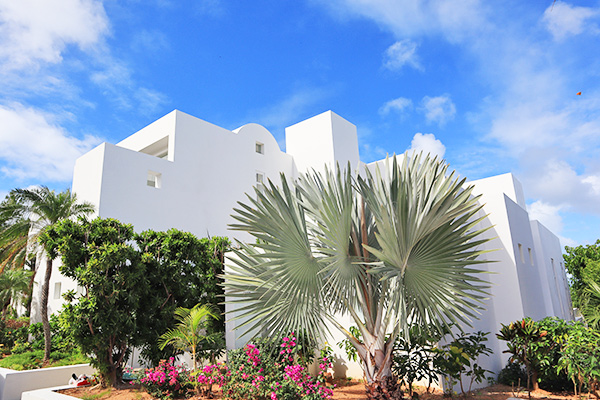 It is nearly identical to Sky Villa in layout. Main differences include one additional master suite (total of 6 bedrooms) and...
Commanding Sea Views

If Sky Villa is a perch in the sky, Sea Villa is the infinite ocean blue.
Where blue sky pours through Sky's windows, the sights and sounds of turquoise sea flow through Sea Villa. Sea Villa's precise angle on Long Bay's hill gives the illusion that you are floating right on Long Bay's heavenly blue waters.
Its terrace seemingly drops off into the azure waters below.
Infinite Long Bay Blue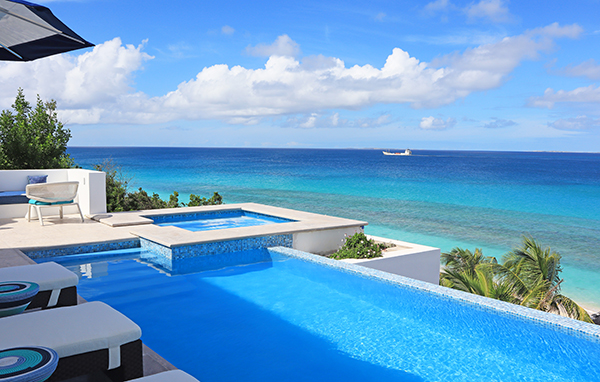 To be immersed in Long Bay Blue, lounge on the striking outcropping that stems from the main part of the terrace.
To The Sea...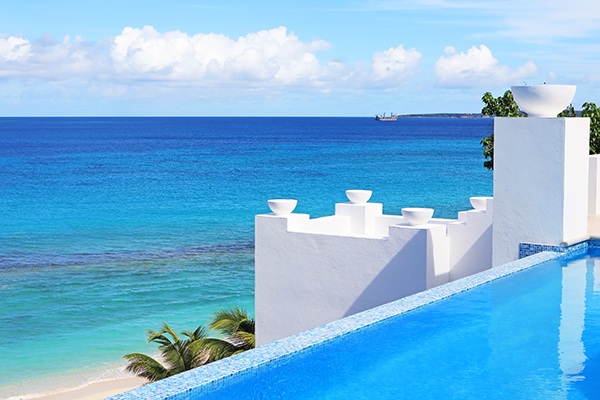 An innovative addition, it brings you to the sea.
Immersed in Long Bay Blue

Sand Villa: For Love of The Beach
Finally, Sand Villa. Like Sea Villa, Sand lay outs nearly identically to Sky Villa. It features four master suites and a bunk room with two sets of bunk beds (total of 5 bedrooms).
Its most distinguishing factor? Its proximity to the beach...
For Love of The Beach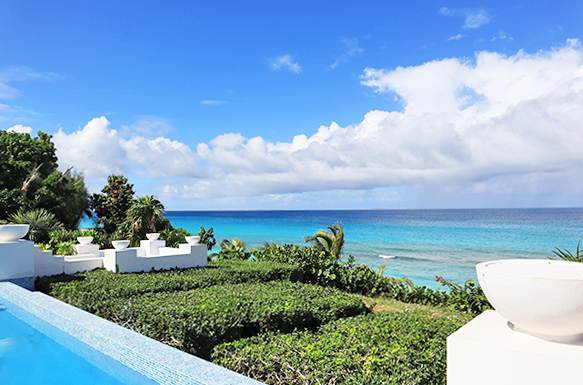 If Sea and Sky represent living on the sea and in the sky, Sand is built for those who love the beach. This villa opens onto the powdery-fine sands of Long Bay.
All villas at Long Bay Villas have access to the beach, but Sand is the closest. It also boasts an additional private path to Long Bay's sands.
Long Bay Views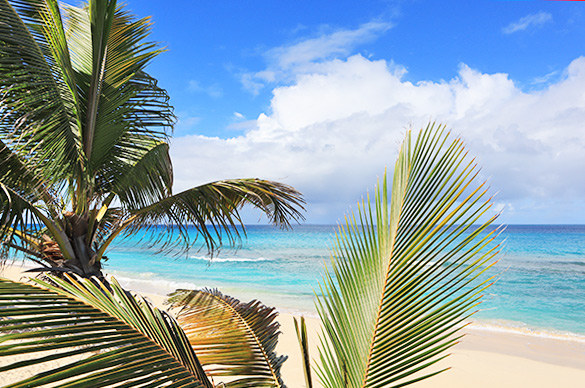 And what heavenly sands they are...
Beachfront Living & Amenities at Long Bay Villas
Long Bay is an undiscovered "Anguilla best." You won't find restaurants, bars or major hotels on these shores. Long Bay is a long stretch of immaculate, powdery-fine sand, that meets shimmering turquoise sea, that meets horizon and blue sky. Its villas are its perfect reflection.
Combining exclusivity and privacy with natural beauty, this is the true definition of "Tranquility Wrapped in Blue."
Long Bay, Anguilla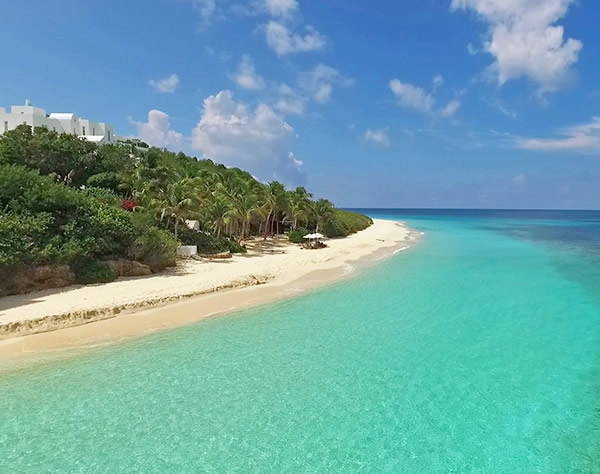 Conveniently, Long Bay is right next door to Meads Bay. Should you want to dine at Anguilla's world-class restaurants, the buzz of Meads Bay is only a two minute drive away.
Naturally, "staying in" is most appealing with Long Bay Villas' beach chaises, umbrellas and its own pavilion on the beach. The beach area is complete with bar and is available to rent for meals on the sand and under the stars.
Stays at Long Bay Villas also include...
Butler service (8 hours per day)
Gym
Daily breakfast
Daily housekeeping
Event coordination & concierge
It all beckons the question, "Why ever leave?"
For an overview of the five-star experience at Long Bay Villas, watch the video below for our stay at Long Bay Villas. We certainly did not want to leave :-)
---
A Note on Space: At over 19,000 square feet, with 16 bedrooms and 3 villas that can sleep 33 guests, Long Bay Villas becomes a premier choice for intimate trips and romantic getaways, in addition to weddings, corporate retreats and large events.
When rented with sister property, Santosha Villa Estate, the entire property can accommodate 55 people. How to use the space for events, such as weddings? Take a look at the video below for property manager, Patricia Bygrave's expert advice.
To book Long Bay Villas...
Long Bay Villas is set on Long Bay, one of Anguilla's most private and exclusive beaches. Located in the West End, Long Bay Villas is just a two minute drive from world-class restaurants on Meads Bay. See exact location below.