"So What's Your Favorite of All Anguilla Beaches?"
"Favorite Anguilla beaches?" That's a question we are often asked.
We had visited all 33 magnificent stretches of sand during our very first Anguilla vacation.
Over the next several years, Anguilla travel found us in every restaurant, most hotels and many villas. Then we moved to paradise!
Our very first impression, the beaches, is still what defines Anguilla. Here is just one example...
It's amazing that such a teeny speck of a Caribbean island in the BWI (British West Indies), a mere 35 square miles, could have so much sand!
We did not just see all 33 beaches (more if you include the "out islands").
We walked them.
We swam, snorkeled, and snoozed on them.
We ate at the most incredible variety of beach restaurants in the world, from shacks to bistros to 5-star luxury.
What's New in Anguilla?
Full details on Anguilla's re-opening.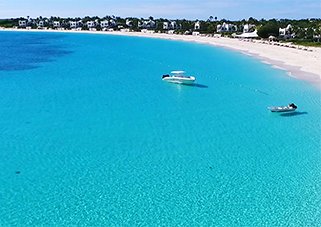 Feel Anguilla calm all day long 💗
Anguilla Love
Since that first flight to Anguilla, we've explored it by air, by sea and every square foot of it by land. And it has almost always been under clear blue skies and brilliant sunshine, Anguilla weather being among the sunniest in the world (benefits of a desert island).
We've watched the national sport, boat-racing, by madly chasing around the island with rabid groups of fans, from one vantage point to another. We've enjoyed Carnival and festivals, from the annual Sandy Ground gathering at Halloween to Festival Del Mar around Easter...
Enjoy Anguilla Through Our Eyes
This site grew from that simple "favorite beach" question. It is based upon our ever-growing passion for a very special place. It shares...
our favorite beaches
"must do" Anguilla activities
best hotels and resorts (from the cheapest to "don't ask" expensive)
our top-choice Anguilla villas
yummiest Anguilla restaurants
most rewarding snorkeling and scuba spots
why we choose to live here
where to go for which types of groceries (you'll see why this is important)
my dad's top spots for Anguilla real estate (he's always looking!)
totally unique "little things" that make Anguilla Anguilla.
my dad's #1 tip for exploring Anguilla (no, it's not to rent an SUV!)
and many other "Anguilla best" things to do, eat, and experience.
Come back and visit often. Or...
Anguilla Comes To You!
Don't miss a thing! There are 4 ways to make Anguilla-Beaches.com visit you!
1)
Anguilla Beach Lovers This free newsletter is delivered monthly, straight to your INBOX. It covers all new pages since the last issue. Sign up here...
2)
Keep up-to-date with all new Anguilla-Beaches.com pages, the minute they go up (special postings, too). Get Anguilla Blog notices at your favorite RSS feed reader. (What's an RSS feed?)
3)

Anguilla Beaches tweets, too! Short, sweet and fun, Twitter is a two-way street. Reach me there directly with any questions or comments about Anguilla that you may have. Click here and then click the Follow button over there.
4)

Go to Anguilla-Beaches.com's Facebook page and click the Like button. Or simply click the Like button (top or bottom of left column of this page). Fun tidbits of information, contests, coupons and the like.
OK, as my dad would say, "enough chatter." I hope you enjoy Anguilla...